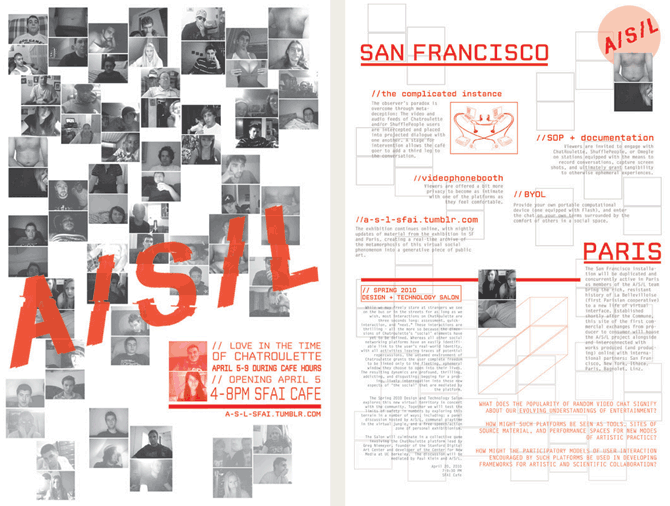 A/S/L

A/S/L was a technologically engaging collaborative project between artists at San Francisco Art Institute and Université Paris 1 Panthéon-Sorbonne. It facilitated and documented discussion about forms of representative communication through the online phenomena Chatroulette.

project link





Porsche Boutique is a collaborative effort inspired by a lux sports car lifestyle, as represented in film. It combines Jen Giese's like-minded photography and Jehn Howard's visual research of the role of the Porsche throughout a selected filmic history.




Pastel and Brass is an art publication that I curated and designed in spring 2010.

Featuring:

Freda Banks
Karly Mossberg
Hailey Loman
Roby Saavedra
Luca Antonucci
Yuka Ezoe
Susan Wu
Josh Band
Shemoel Recalde
Mark Roberts

Pastel and Brass on MagCloud

Pastel and Brass is featured in the Bay Area Art Publishing Now Library.





The Cloqq Clinic is a generative, transmedia experience disguised as a comprehensive self-help service. Science fiction, New Age, and early web aesthetics serve in a campaign for assessing and regaining our patients' wasted time. The project exists within both virtual and brick & mortar architectures, where the lines of digital devices and urban spaces are blurred by the participant's interaction and exploration. The simulated rehabilitation program is guided by two elusive and celestial characters – Doctress Cloqq and her assistant Nimm. The Cloqq Clinic experience begins on the World Wide Web, at cloqqclinic.org. Cloqq Clinic collaborators include Tucker Bennett, Rene Franco, Jehn Howard, James Howzell, and Roger Stack.

project link





Hyphen is a product that emerged from a collaboration between San Francisco Art Institute and Gobelins l'ecole de l'image, Paris. In light of the contrasting modes of creative production we encountered through this collaboration, this prototype is itself a framework for negotiation between disparate, or otherwise unrelated, visual elements and phenomena. Hyphen may be used for any number of collaborations not necessarily related to art, but any collective effort through which images are produced/examined. Hyphen is the title of the Max/MSP patch used to create the SFAI/Gobelins interactive video installations. It is intended to be used by other artists, designers, and scholars in a peer-to-peer manner, and now exists as an open framework for interpretation, modification, and reinvention. Hyphen should be employed as a tool for studying comparative relationships in order to portray conceptual research through time-based installations and performances. The product has launched at the event KEEPING IT OPEN: Reflective Visions of San Francisco and Paris, and will continue to evolve through an online community of interpreters. The Hyphen Max Patch and other information can be found at hyphen.virb.com.

project link





NEXT: 40 Portraits of Chatroulette Users, 2011-ongoing

Arguably the most fascinating Internet meme of 2010, Chatroulette has created an immaterial space for a multitude of personal interactions. The real-time video-chat experience is controlled by random algorithms and superficial judgements. This has opened the doors for unprecedented private relationships at an incredibly schizophrenic speed - thus transforming the virtuality of chatbot culture into a sobering real image of another human being. Emerging from the shadows of a bedroom and the dark corners of cyberspace, we find an intimacy unfamiliar to what was once considered an anti-social technology. Digitally-illuminated faces often imply bodies suggestively lying under bed sheets. Some chatrouletters hide in embarassment or guilt, while others eagerly await in direct sight of the webcam. Progressing through strangers on screen, we are left questioning the personal experience versus the fleeting moment.

NEXT is an on-going curatorial project that will eventually take many forms. It was made with the help of Marc Kremers in London, and is a contributing story to As-Found.

project link